ZE RACE : Downwind long distance in Guadeloupe, French Caribbean
9th Annual Edition of ZE RACE : Saturday, January 26, 2019
The Watermen Karukera Club organizes a long distance race « Downwind » of about 50km in open ocean, linking 2 islands of Guadeloupe, well known as ZE RACE.
ZE RACE is open to Stand Up Paddle (SUP and SUP Foil), Outriggers Canoes, Surfskis and Prones Paddleboard, both amateur and professional, and can be solo or in teams of 2 or 3.
To make things worse, the solos perform the race in self-sufficiency in water and food.
In parallel, the same day, a Mini ZE RACE of 5 km will be organized for the young and the beginners.
ZE RACE attracts more and more competitors, amateurs and professionals, national and international. In addition to the regular Guadeloupe and Martinique competitors, ZE RACE has already had the pleasure of receiving many top competitors as for example :
Stand Up Paddle :
– Olivia Piana (N°1 France, France 2017 team, champion of France, vice World Champion LD 2017 and European Champion)
– Amandine Chazot (N°2 France, France 2017 team, vice World Champion 2017 Sprint)
– Martin Letourneur (Top 5 France)
– Gaétan Séné (France team 2012, top 10 France)
– Dimitri Georges (Top 15 France, winner ZE RACE 2014 and 2015)
– Romuald Mamadou (Winner ZE RACE 2016 et 2017)
– Boris Jinvresse (Top 10 France)
– Yoann Cornélis (Team France 2012)
– Florent Dode (Long distance racing specialist)
– Garrett Fletcher (The fastest Stand Up Paddler on the US East Coast)
– Mathieu Astier (Total SUP)
– Joseph Gueguen (Top 15 France)
– and more…
Surfski :
– Oscar Chalupsky (12 times world champion of Sursfki, Winner ZE RACE 2018)
– Didier Vavasseur (Olympic medalist in Kayak)
– Nicolas Lambert (Team France, champion of France, European Champion, winner ZE RACE 2017 and 2015 in surfski…)
– Stéphane Roudault (winner ZE RACE 2016 in surfski…)
– Joël Doux (Canoë Kayak Magazine)
– and more…
Outrigger canoe :
– Damien Troquenet (Champion in Outrigger Canoe and Va'a, winner ZE RACE 2016 in outrigger canoe)
– Stéphane Bodet (Winner ZE RACE 2017 and 2018)
– Loïc Behin (Top 10 France)
– and more…
– The Mini Ze Race, a 5km race open for children, in SUP, kayak, outrigger canoe, prone, will see its start in the Datcha Beach in Gosier and the finish line will be on the same place as the 50km course.
Information and registration with Olivier Tanton: otanton@gmail.com and +590 690 72 58 57
Transport of boards ZE RACE 2019:
SET CARGO, partner of ZE RACE 2019, manages the transport logistics of the competitors' boards coming from metropolitan France. To benefit from this, please contact Romuald by e-mail at zerace50@gmail.com or by phone: +33 7 67 57 72 52
Follow ZE RACE on Facebook

and Instagram

___
ZE RACE 2019 Rules
Download here the ZE RACE 2019 rules :ZE RACE 2019 RULES
The Course
The course in the open ocean, downwind, rally the islands of Petite-Terre (south east of St-François) to the Marina Tennis Club, at Pointe à Pitre (south Grande Terre).
The course is 47 km in a straight line « perfect » on Google Earth. The actual distance traveled by competitors depends on their navigation. It oscillates between 47 and 50 km.
With ideal conditions of wind and sea, it is necessary to count approximately 3 hours of race for the 1st in Surfski, 3h45 for the 1st in Outrigger Canoe, 4h00 for the 1st in Stand Up Paddle and 5h00 for the 1st in Prone Paddleboard.
For all, the race time is limited to 8 hours maximum. Stop the competitors at 6 pm if they have not passed the ilet du Gosier.
ZE RACE COURSE 2019 (SUP, Outrigger Canoes, Surfskis, Prones Paddleboard) :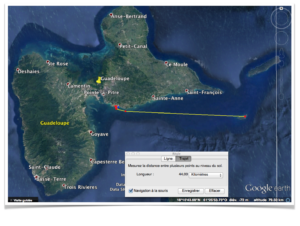 ZE RACE Start from Petite-Terre (SUP, Outrigger Canoes, Surfskis, Prones)
The start of ZE RACE 2018 will be launched on Saturday 26 January 2019 in the lagoon of the Petite-Terre islands at 10:00am.
The starting line is materialized by the alignment of a flag « Watermen Karukera » on the beach and a boat of the organization. Each competitor aligns himself, as he pleases, on this starting line.
Audible and visual signals give the starting orders:
– 2 short shots of horn 10 minutes before start + a RED flag lifted.
– 1 long blow of horn to launch the start + a GREEN flag lifted.
The finish line at Marina Tennis Club (Bas du Fort)
The finish line of ZE RACE 2018 takes place at the Marina Tennis Club, at the end of road of BAS DU FORT.
Clic on the photo to zoom it :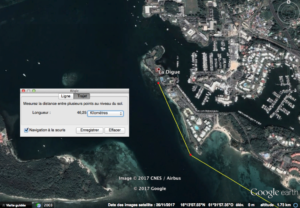 ___
VERSION FRANÇAISE CLIQUEZ ICI